As the rainy Spring season comes about and we start dealing with muddier, messier, wetter dogs many parents have started asking me what kinds of things they can leave for us and what kinds of things they can do in their condos to make it easier for them to manage their dogs. This got me to thinking about all the things I have seen in my days in dog care that people have in their house/condos to make life with a dog easier in general – NOT just in the Spring (but some of these things can be helpful for weather changes too!).

I have compiled a list of some of the best things I have seen dog owners do to make life easier/better for them and their dog when living in the city and are ESPECIALLY great for busy working professionals. Not all of these things are the right fit for EVERY dog so the most important thing is to figure out your needs for your dogs and plan your list from there!



1. Set Up an Outdoor or Indoor Pee Patch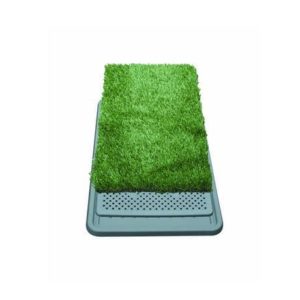 This can be a TOTAL life saver if you live on the 35th floor and it takes 10 minutes to get an elevator each way in the AM while you're getting ready for work. This is obviously NOT meant to be your dog's sole form of relief – they NEED to go outside and exercise, but if you have a dog who is dying for a pee and you find yourself racing out the door the minute your eyes open to avoid an accident a pee patch can be a great solution. You can set them up outdoors or indoors and they are super easy to clean and manage odors. This item is to be used in addition to a regular OUTDOOR exercise regimen – not instead of one! This is a life saver for new puppy parents!!!



2. Attach a Door Protector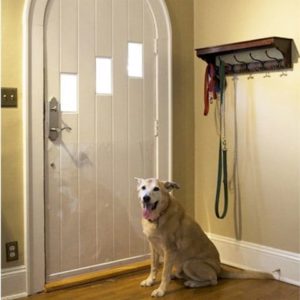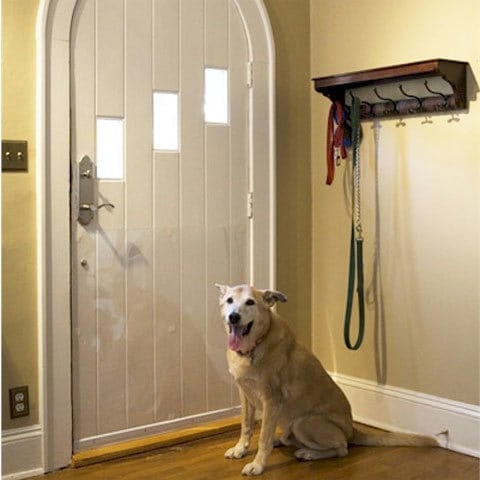 For those dogs who tend to lounge by the door and get excited when someone walks by. This will protect your door from their claws and save you the damage headache. This shouldn't be used as a solution if your dog is suffering from anxiety, but it sure can be a great way to keep that damage deposit in your rental condo!



3. Throw on a Couch Protector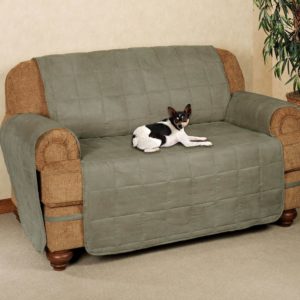 These things are a god send! You don't even have to use them every day – but on those rainy days this will save your furniture. No matter how much you towel off a dog's paws, legs, tummies, there was always be some dampness left behind (especially if you have a longer haired breed). These padded couch covers come in a variety of colors, sizes, shapes and materials – you can get fully waterproof ones as well. A big thick blanket will protect from every day dirt and fur as well – it all depends on your dog's daily routine.



4. Set Up an Indoor Playpen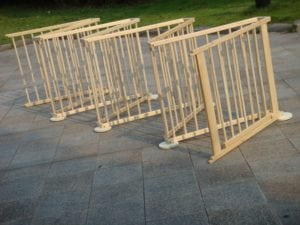 These things rock because you can configure them however you like. You can do a full circle or corner off a specific part of a room, or even just use them as a barrier in a door way. They are great to create a space for your dog either on an every day basis, or just when the weather is not so great and you don't want your dog walker to let them loose in your home after their outdoor romp.



5. Buy a Classic Dog Crate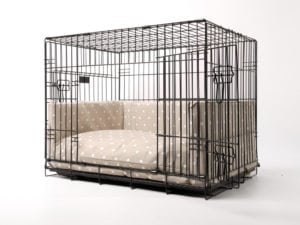 Same principle as the indoor playpen – it can create a 'safe space' for your dog or you can use it when you need it to keep your place clean. The most important thing with crates is to ensure that you choose the right size. Here is a handy sizing chart to use when you're trying to figure out what works best for your dog:

Crate Sizing Guide

Extra Small Crates (Dog weight: Between 1 lb. and 10 lbs.)
Sizes: 24L X 18W x 21H, 24L x 18W x 19H
Breeds: Boston Terrier, Chihuahua, Jack Russel Terrier, Maltese, Papillon, Pomeranian, Pug, Shih Tzu, Yorkshire Terrier and more.

Small Crates (Dog Weight: Between 11 lbs. and 25 lbs.)
Sizes: 24L x 18W x 21H, 24Lx 18W x 19H
Breeds: Border Terrier, Boston Terrier, Jack Russell Terrier, Miniature Dachshund, Maltese, Miniature Poodle, Tibetan Spaniel, Yorkshire Terrier and more.

Medium Crates (Dog Weight: Between 26 lbs. and 40 lbs.)
Sizes: 30L x 21W x 24H, 30L x 19W x 21H
Breeds: American Pit Bull, Cocker Spaniel, Dachshund, French Bulldog, King Charles Spaniel, Minature Pinscher, Miniature Schnauzer, Shetland Sheepdog, Welsh Terrier and more.

Large Crates (Dog Weight: Between 41 lbs. and 70 lbs.)
Sizes: 36L x 24W x 27H, 36L x 23W x 25H
Breeds: Basset Hound, Belgian Sheepdog, Bull Terrier, Bulldog, Chinese Shar-Pei, English Setter, English Springer Spaniel, Harrier, Schnauzer, Welsh Corgi and more.

Extra Large Crates (Dog Weight: Between 71 lbs. and 90 lbs.)
Sizes: 42L x 28W x 31H, 42L x 28W x 30H
Breeds: Australian Shepherd, Border Collie, Boxer, Chow-Chow, Dalmation, Doberman Pinscher, German Shepherd, Golden Retriever, Irish Setter, Labrador Retriever, Siberian Husky, Poodle and more.

XXL Crates (Dog Weight: 90 lbs. and up)
Sizes: 46L x 30W x 33H
Breeds: Alaskan Malamute, Bernese Mountain Dog, Bloodhound, Giant Schnauzer, Great Dane, Great Pyrenees, Greyhound, Neopolitan Mastiff, Newfoundland, Old English Sheepdog, Rottweiler, Saint Bernard and more.



6. Have Automatic Water & Food Feeders Available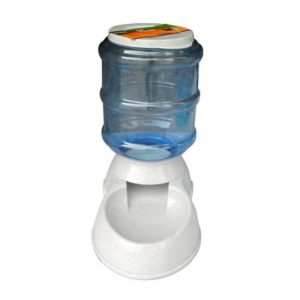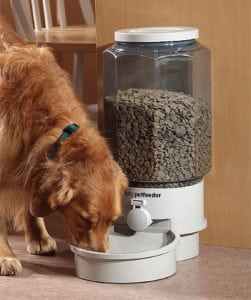 These are great for those days when you don't get home quite when you expected to. You can fill up your automatic water feeder as needed (every couple days usually – depending on the size) and it will fill the water dish as your dog drinks ensuring they always have water available. With the food feeders you can set the amount and the timer and it will dispense the correct amount on schedule. This doesn't need to be used every day, every time, but if you know you have a 3 o'clock meeting that might run late, it's a nice thing to know that your dog won't be sitting my the door waiting waiting waiting for you to get home to feed them dinner! You can even decide to use this for only one meal a day (whenever you're busiest) and make the other one a special together meal.



7. Make Some Interesting Dog Toys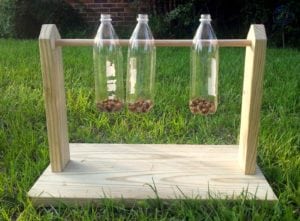 These aren't just good for anxiety – they are entertaining for dogs of all kinds. You can use them when you're not home, or even when you are home. You can fill them with whatever you like (healthy, healthy, healthy) and you can make them yourself to match your own decor!



8. Set Up a Webcam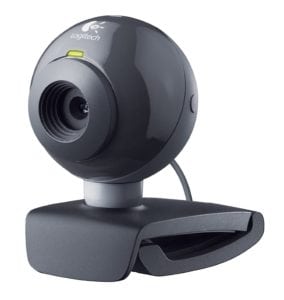 This one is great for both nervous parents to ease you in to leaving your dog at home alone, and also for those who are dealing with an anxious dog. You can see what they are up to, when they get picked up/dropped off by the dog walker, see what they are getting into and what time of day it is (if you're noticing destructive behaviour), or just watch them get super pumped up and excited once they figure out the automatic feeder dispenses their lunch at a certain time every day LOL


THE MOST IMPORTANT THING YOU CAN DO…


9. Prepare a Dog Station Near Your Front Door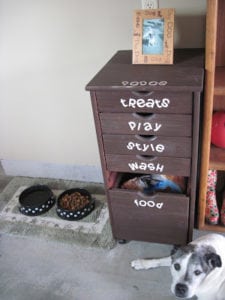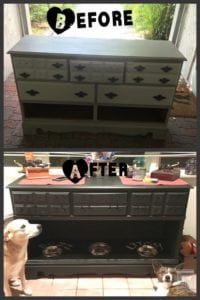 Dog stations are the most helpful tools for you (and your dog walker, or whoever cares for your dog day to day). You can make them as simple or as fancy, large or small as you want to. Stock it with all the essentials that you will/might need when you walk through the door or when you are on your way out. Here are some examples of what you can stock your dog station with:

– Dog Treats
– Dog Toys
– Poop Bags
– Collars & Leashes
– Harnesses & Training Leads
– Coats/Sweaters/Bandannas
– Dog Boots
– Large Absorbent Towel
– Package of Wet Wipes


As you can see in the pics above, a lot of people will integrate their dog's feeding station into their supply station as an all in one. This way you can also store the food nearby (or within depending on the size) and keep all the stray kibbles, spilled water mess contained to one easy to clean location.