CUSTOM DOG SHUTTLES
Our custom shuttles are the largest and safest dog transportation vehicles in the city, hands down! Starting with the commercial fleet vans with the largest cargo space available, the Ford E250s and Mercedes Sprinters, we have completely customized the interiors to provide your dogs with the ultimate in comfort and safety. The same company that outfits the vehicles for the Toronto Humane Society works on our fleet – they're the best!
The rear cargo area has been transformed into a reinforced crash resistant, fully insulated ride zone. This material is comfortable on the paws and food safe. This makes it possible for us to spray wash and disinfect them completely, creating a much more sanitary environment than seats/cushions/carpets/blankets/rubber mats that hold urine/feces/bacteria/odor. They have also been outfitted with heavy duty metal mesh barriers to create separate riding sections for large and small dogs. This way all the dogs can ride in comfort and safety, no matter how small they are!
Most importantly, these vehicles are completely temperature controlled on a professional level. The riding zone is equipped with a full HVAC systems, which provides circulation, heat and A/C. Standard built in systems that come with the average vehicle just aren't strong enough to properly heat and cool a vehicle from front to back evenly, especially with a pack of panting dogs inside!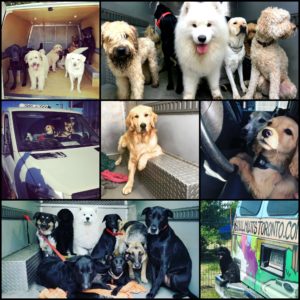 TOP OF THE LINE & ONE OF A KIND
CUSTOM SECURITY SYSTEM
Our vehicles has been upgraded with the following integrated, fully built in security features:
DRONE GPS TRACKING – Active tracking where we can see our vehicles from anywhere on earth in real time.
REMOTE STARTER – We can keep the shuttle running at all times without a key in the ignition and now we can also start them from inside the park to start heating/cooling it before we start loading up.
ENGINE IMMOBILIZER – If anyone tries to put the vehicle in gear, turn the wheel or press on the brake pedal (necessary to drive), the engine will be immobilzed immediately. We also have the ability to shut the vehicles off remotely.
REMOTE MONITORING – Our pack leaders can actively monitor the status of the engine, the location of the vehicle, the temperature inside, even the battery voltage. We also all receive alarms on our phones and laptops if the vehicle is tempered with in any way, in addition to the built in alarm on the vehicle itself sounding off.




DOG TRANSPORTATION IN TORONTO
Compared to other large cities, Toronto's dog culture is still very young. If you were to visit cities like Los Angeles, San Francisco or San Diego you would see what 'dog crazy' really means. When I spent time there, I learned what running a dog business is all about; NEVER CUTTING CORNERS and ALWAYS GOING ABOVE AND BEYOND EXPECTATIONS.
One area that this is becoming more and more problematic in Toronto is in the transportation of dog packs.
Transporting 6 – 8 dogs in a little compact car/hatchback or 10 – 12 in a crossover/SUV is not only completely unsafe, it is also is not a sanitary or comfortable environment for your dog. Windows are easily broken in an accident and if dogs are ever put in the front seat they are at a great risk from the airbags alone, let alone going through the wind shield. If these personal vehicles were ever involved in a real car accident, the risk to the dogs would be unnecessarily high. Furthermore, passenger vehicle interiors are made of textile materials that are impossible to keep dirt, pee/poo bacteria, odor free.
Another issue is business advertising. While vehicle wraps and decals are a great way to spend an advertising buck by creating a "rolling billboard", it draws too much attention to the dogs inside. Aside from the worst case scenario – dogs being stolen – there is the much more common disruption caused by people walking by wanting to interact with the dogs. They come far too close to the vehicle, tap/bang on the windows, getting the dogs all riled up and barking when they could be sitting/laying down calmly between/at pick up stops. We have marked our vehicles in ways that the average person on the street would never assume there are dogs inside, but that we can distinguish them among all the others if we ever need to.
Since there are no laws limiting the amount of dogs that may be transported at a time, the decisions are left to the individual companies themselves. Bottom line, it is the dog owner's responsibility to ask what kinds of vehicles their dogs are being transported in and to expect more from their dog care providers.