Welcome TO THE LARGEST INDOOR / OUTDOOR PRIVATE SPACE IN DOWNTOWN TORONTO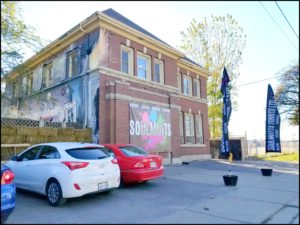 OFF LEASH OUTING
$24/Outing Monday to Friday
~3 Hours Door to Door
Pick Up & Drop Off Included Within Our Service Area
All Pick Up and Drop Off Services Have a Minimum of 3 Days/Week
Bringing a new dog walker into your life is not just about finding someone to drag your dog around the block or up and down a million elevators. It's about finding someone who can create a solid routine that involves group socialization, skill building/good behavior reinforcement and who allows your dog to really stretch their legs and run as a part of a pack. Like humans, dogs are social creatures and require off leash, energetic socializing time in order to be well rounded and happy. As the saying goes; a tired dog is a happy dog!We have been providing high energy, off leash dog walking services downtown Toronto since 2008. We have a consistent pack of dogs who walk a minimum of 3 days/week for 2 very important reasons.
Say goodbye to last minute service cancellations due to weather conditions
When your dog joins our pack they become a part of our family. Our motto has always been "Same Pack Leaders. Same Pack Mates. Every Time." We provide a consistent daily routine involving high energy play, group socialization and, of course, super awesome evening cuddle sessions. We don't have a revolving door of staff. All of our staff members are trained, hard working dog lovers.
Our dogs know each other very well and they know their routine. We are not introducing new dogs to another all the time, or multiple new dogs at once. This way we can maintain a much higher level of control over our pack's behaviour and we can take away the unpredictability factor that is so prevalent at public dog parks. Furthermore, our pick and drop off schedule stays very consistent this way. When we start a new dog we integrate them onto our set driving route and we stick to it every day so that you and your dog can come to expect us in a much narrower window of time than most driving dog walking services.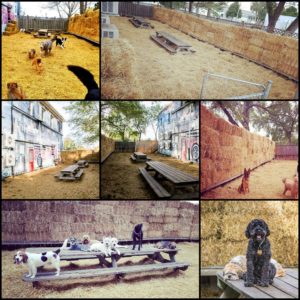 We transport our pack to our private space in our customized, fully temperature controlled dog shuttles. They have separate riding areas for small and large dogs for safety during travel. The riding areas are fully finished, upgraded safety barriers. The walls are encased with metal ribbing and then sealed in and sprayed with rock hard insulation, and further sealed with fiberglass to ensure a fully secured riding area. This is worlds safer than the backseat of a car or truck that has no protection whatsoever and surrounding windows that shatter on impact.
best in class and one of a kind dog shuttles
They are equipped with professional grade HVAC units that maintain a consistent temperature at all times. They also feature fleet grade security systems that include Engine Immobilizers, Drone GPS, Remote Start & Stop and Mobile Engine/Temperature control.

READ MORE ABOUT THEM
Welcome to the coolest dog daycare & dog boarding space in toronto!
DOG DAYCARE SELF SERVICE
$42.00 Monday to Friday
UP TO 12 HOURS
7:00AM to 7:00PM
HALF DAY (4 HOURS OR LESS) $32
$49.00 Saturday & Sunday
UP TO 10 HOURS
9:00AM to 7:00PM
HALF DAY (4 HOURS OR LESS) $36
DOG DAYCARE INCLUDING PICK UP & DROP OFF:
$42.00 Monday to Friday
6 Hours Including Pick Up & Drop Off
Minimum of 3 Days/Week on All Pick Up and Drop Off Services
Not Currently Available in All Areas
When your dog stays with us they will have exclusive access to both our brand new one of a kind Dog Daycare & Dog Boarding facility in the Toronto Portlands. We spend our days as a pack, engaging in both outdoor and indoor activities. We can choose to play in one large group or we can split our indoor and outdoor areas into multiple yards depending on our dog pack's needs. We ensure that all dogs; large, small, old, young, etc. are all able to have a comfortable and fun time with us!
Located at 39 Commissioners Street in a 2 story beautiful brick historic building, we have transformed a piece of Toronto's rich history (one of its first Firehalls) into something truly special.
We have always believed that dogs require ample indoor AND outdoor space for our dog pack. It makes all the difference in how they can run and play! Your dog will come home tired, and that's a promise!




SOME OF OUR COOL FEATURES INCLUDE:
Top of the line solid sealed poured epoxy flooring. This floor is completely sealed wall to wall throughout, no more seams like with the old rubber style flooring where bacteria seeps in and gets trapped. Yuck.

Fully custom gating system; allowing dogs free run off leash indoors and outdoors, while always ensuring their safety and security.

Depending on the needs of our pack, our building can be converted from one massive play area to up to 5 personalized zones so we can accommodate dogs of all sizes and energy levels.

With 6000sqft of outdoor space and 6000sqft of indoor space we can all play as a group or create up to 4 completely separate outdoor play areas!

Small dogs that spend the day with us can enjoy their own private play area with only other small dogs, or they socialize with the whole pack if they are comfortable.

Private Sleeping Accommodations for both Small & Large Dogs available upon request. These accommodations can range from full size kennel rooms (2ft x 5ft or 3ft x 5ft), to completely Private Bedrooms.

Custom Built Feeding Room complete with feeding stalls. This ensures that your dog is eating their food in complete portions every single time. We never feed dogs as a group.

Professional Grade HEPA Air Filtration System. These units are installed on top of AC and Heat and provide 4 levels of extra filtration ensuring clean, odor free air throughout our space.